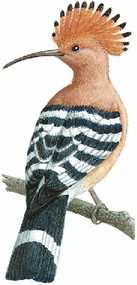 The Hoopoe is a real nice bird. It's mentioned in the Holy Quran one time in chapter number 27 "The Ants" - Al Naml - النمل when God talks about the story of King Solomon and the Queen of Sheba. A Hoopoe bird, which served King Solomon, is been missing. King Solomon wonders where the Hoopoe has gone and it appears to have traveled to Sheba (present Ethiopia or Yemen) and brought some news.
The word Hoopoe (in definite form) appears only one time in this chapter (and whole Quran). It appears in verse 20:


"And he took a muster of the Birds; and he said: "Why is it I see not the Hoopoe? Or is he among the absentees?"
In this chapter the word "The Bird" - Al Tayr - الطير (Which in Arabic means also the birds) appears three times in this chapter, all three occurrences appear before the word Hoopoe. It appears in verse 16, 17 and 20. Click here to review verse 16 to 20.
The words in these verses are arranged in an interesting way. Consider these facts below:
The number of words from the first word "The Bird" in verse 16 to the 3rd and last occurrence of it (the one in verse 20, where Hoopoe is mentioned) is 63. The interesting thing is that the Hoopoe has a haploid chromosome number of 63. The Hoopoe is the only type of bird mentioned in this chapter.
We figure out the position each "The Bird" word has from chapters beginning (the number of words from chapters beginning to it) and divide the positions' numbers by chromosome numbers 63. Look at the table below:

Notice that the word occurrence in the middle divides by the number of haploid chromosome number: 63 perfectly. Dividng the position number of the 1st and 3rd occurrences gives a remainder of 47 for both. What's is 47? The bird Hoopoe can be refered to by 47 since 47 is chapter number 27 + verse number where the word Hoopoe appears 20.
Notice also that 189 (the position of the occurrence in middle) divides perfectly by 63 and gives the result of 3. The word "The Bird" appears 3 times.